Follow My Current Work on Instagram @CharlesJonesBlades
AVAILABLE Knives Ship in 3 to 5 Days
Current Lead Time for Made to Order is Roughly 24 Weeks
Quality, Precision, Durability, Integrity
I make each and every one of my products by hand. Start to finish, everything in house. Each and every knife created with precision and durability in mind. I trust my knives to last a lifetime. With proper care, such as the occasional coat of oil, my blades are intended to be handed down. I am confident in my process and materials so much I guarantee every blade will function as a cutting tool for a lifetime.  
Each steel I use is thermal cycled to maximize the toughness of the steel. The temperature, time, and quench that I use for each steel maximizes the hardness and the edge retention of the blade. The marriage of these properties makes for a tool that you can trust. Each of these properties determines how the final knife will perform in real world conditions. 
Every one of my blades though beautiful are intended to be used. I have said it before and I will say it again, the heat treatment is what determines the true quality and value of the blade. A super advanced, expensive stainless steel would be completely wasted when improperly heat treated. It would seriously under perform in comparison to ANY properly heat treated steel. 
It is my belief that the type of steel a knife is made from should compliment the intended use for that knife. For that reason I currently utilize 1095 High Carbon Steel, O1 Tool Steel, W2 Tool Steel, 80CRV2, and AEB-L. Some of these steels hold their edges longer, some have more toughness, some are easier to sharpen, and some hold a sharper edge. Every blade is tailored to the needs of the person behind the knife.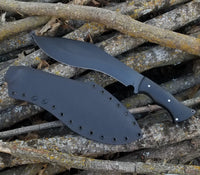 A Large Kukri in CPM3V for Extreme Chopping
This design is available in various colors of Cerakote, and other finishes!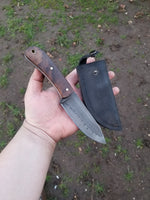 The Trapper
Useful for any bushcrafting needs, works great as a skinning knife, compact enough for EDC, and robust enough to split firewood all day.
Pictured in W2 Tool Steel with Figured Black Walnut scales. The lanyard tube come standard on this model.
The perfect handle for use with gloves on. The perfect Blade length for field dressing.
This hunting knife will serve as your trusted companion.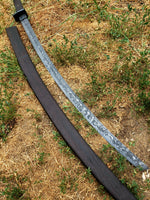 A Focus on the Hamon
I low the organic look and feel one can achieve with a differential Heat Treatment. In this process the spine of the blade is selectively coated in clay causing the edge to be fully hardened when quenched but the spine is left much softer. This difference in hardening can be seen when the blade is etched and polished.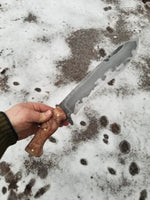 A large Custom W2 Chopper.
Brut De Forge Finish on the flats, big leaf Maple Burl Handle. Such a pleasing combination!